We've got a story to tell…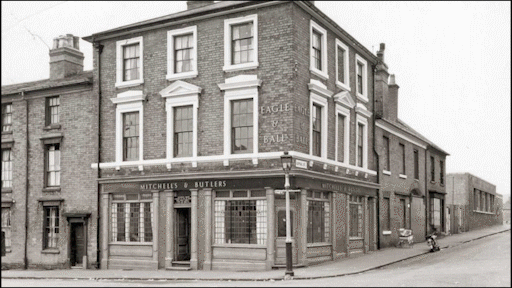 The Eagle & Ball was built in the 1840's and opened to the public as a backstreet public house, sometime in the 1850's. Originally one of the first Ansells pubs in Birmingham, The Eagle & Ball promised the local residents of Birmingham, good ale, good times and an array of musical entertainment.
Although not much is known about the history of this amazing piece of Birmingham's heritage, its close proximity to the canal network, factories and being central to the slum housing of the time, may have meant that the pub has experienced a very colourful past. The now infamous Peaky Blinders were notorious in much of the surrounding areas, so may have kept a very close eye on the goings-on in The Eagle & Ball.
Records regarding early landlords of the pub is sadly lacking, so little is known of who resided above the Eagle & Ball. However, todays staff have experienced what they believe is 'ghostly' behaviour, with extreme temperature changes, doors closing on their own and an uneasiness if you stay in the cellar too long. This has led the current management to believe that many a landlord may not have wanted to leave this great pub, and to look over it for all of eternity. Of course, these 'ghostly happenings' could all be down to the craft ales and fabulous wine selection that the pub now serves.
The Eagle & Ball underwent a name change in the 1960's and was called Moby Dicks until very recently. Now a Grade II listed building, the has been lovingly restored and incorporated into the new Birmingham City University building, and renamed The Eagle & Ball once more, in a nod to a true piece of Birmingham's past.